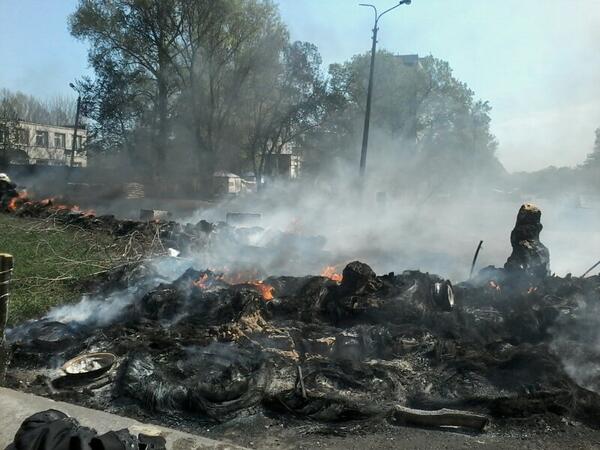 SCROLL DOWN FOR NEWS LINKS AND VIDEOS: The situation In Ukraine has just worsened as the Ukraine army attacked illegal checkpoints killing five. RT news reports that, "five anti-government protesters have reportedly been killed and one injured in the eastern Ukrainian town of Slavyansk after Kiev authorities sent tanks and armored vehicles against the local population." The threat of war is looming and the clouds of prophecy are swirling. Gog is rising and soon the stage will be set as Russia will advance unto Israel in a near future event.  Please check back for more updates. Thank you for visiting These Christian Times and God Bless You
BREAKING: Ukrainian army storms illegal checkpoints killing at least five
RT NEWS: Five anti-government protesters have reportedly been killed and one injured in the eastern Ukrainian town of Slavyansk after Kiev authorities sent tanks and armored vehicles against the local population.
"During the antiterrorist operation, three checkpoints erected by illegal military groups have been destroyed in the northeastern part of Slavyansk," the Ukrainian Interior Ministry said, adding: "At least five terrorists have been killed. One policeman was injured."
Witnesses report on Twitter Slavyansk self-defense forces are now burning tires to hamper the entrance of infantry vehicles from Kiev into the city READ MORE: http://rt.com/news/154544-slavyansk-fighting-east-ukraine/
PITN: Reasons Russia Will Invade Ukraine
NBC NEWS: The British navy is closely monitoring a Russian destroyer that approached its waters, it said in a statement.
The destroyer Vice Admiral Kulakov, seen in the foreground above, was tracked by HMS Dragon, a U.K. Royal Navy destroyer, as it passed the north coast of Scotland.
In a statement on Wednesday, Britain's defense ministry described the maneuver as "a well-established and standard response" to the deployment of the Russian ship.
In a separate development, Britain scrambled Typhoon fighter jets to see off Russian military planes flying close to its airspace on Wednesday READ MORE: http://www.nbcnews.com/storyline/ukraine-crisis/brits-alert-russian-destroyer-approaches-u-k-n88406
SKY NEWS:Two Russian bombers which flew close to UK airspace have been chased away by an RAF jet fighter.
The aircraft, believed to be Tupolev 95s, were spotted off the coast of northeast Scotland.
They were turned away from Britain when an RAF Typhoon was scrambled from Leuchars airbase, near Dundee.
Crews stationed there are on standby to intercept unidentified aircraft at a moment's notice.
The incident comes amid heightened international tensions over the situation in Ukraine, following the annexation of Crimea by Russia last month READ MORE: http://news.sky.com/story/1247985/raf-jet-chases-russian-planes-away-from-uk
TROOPS ARRIVE IN POLAND
ACE NEWS SERVICE: The United States is sending about 600 soldiers to Poland and the three Baltic states for infantry exercises, the Pentagon said on Tuesday, one of its highest-profile steps yet to reassure NATO allies after Russia's seizure of Crimea.
Groups of 150 soldiers will be sent to Poland, Estonia, Lithuania and Latvia in rounds of month-long exercises in each country in what the Pentagon calls a "persistent rotational presence" that stops short of permanently basing troops.
Rear Admiral John Kirby, a top Defense Department spokesman, said the deployments sent a strong message to NATO allies about U.S. commitments to the alliance following events in Ukraine READ MORE: http://shaunynews.wordpress.com/2014/04/24/usa-sending-troops-to-eastern-europe-as-the-preperation-for-war-starts/